From Band-Aid to lifeline: Pa. biz owners' fund helps 1,000 entrepreneurs cut off from government aid
As the first wave of the pandemic was raging and businesses were reeling from the shutdown, a group of Philadelphia-area business leaders brainstormed ways to help.
While state and federal financial aid were supposedly available, many mom-and-pop enterprises struggled to access the money. With experience in industries ranging from supermarkets to corporate law, the group came up with its own solution.
In May, they launched the Pennsylvania 30 Day Fund.
Funded through donations from philanthropists, wealthy business owners, and anyone who wanted to pitch in, the program provided $3,000 forgivable loans to the state's most vulnerable small businesses.
As the name suggests, it was intended to be a short-term effort.
"We honestly thought we would close this fund down after a few months," said Jeff Brown, the fund's chair, who operates a dozen ShopRite grocery stores in the Philadelphia area. "We thought everything would be open, and it would be over."
That didn't happen. Even as government officials impose new rounds of mitigation measures and restrictions, the state and federal aid that helped some proprietors weather the spring lockdown has dried up. On Sunday night President Donald Trump reversed course and signed the second stimulus bill, which contains hundreds of billions in aid for small businesses. It is unclear how quickly that money will flow.
But the 30 Day Fund is still going strong.
Over the past six months, the program has raised more than $3.1 million, and funded a diverse assortment of businesses in every Pennsylvania county. Organizers expect to have provided loans to at least 1,000 independent operations by year's end.
"We are excited about what has been accomplished," Brown said. "But we are concerned about the situation businesses are in — they are in the worst shape they've been in this whole time,"
About 45% of the 30 Day Fund's recipients are people of color, according to a spokesperson for the group. Black and Latino business owners received Paycheck Protection Program funding at a lower rate than their white counterparts, so making their program inclusive was important to the Philly business leaders.
The 30 Day Fund has also made a point to seek out women entrepreneurs: 54% of the forgivable loan's recipients are women.
Before the pandemic, Tamekah Bost was optimistic about the growth potential of a Philly-style take on Chinese takeout. In early March the Philadelphia native signed a lease on a sixty-seat second location for her restaurant, called "The Better Box."
Two weeks later, the city shut down. "It was kind of like a shaking-in-your-boots moment," Bost said.
Bost was forced to let that location sit vacant until June. Though business at her other location remained strong, she struggled to keep up with rent. Her applications for the Paycheck Protection Program and other state and federal coronavirus relief went nowhere.
Her luck started to turn around in September, when The Better Box's application to the 30 Day Fund was approved.
"We were literally getting 'no's left and right from like everything we were applying for, and we really needed help," Bost said. "So when we got the grant, it was kind of like a blessing."
Bost said she especially appreciated the program's application. The fund skips the pages of financial disclosures required by other grant and loan programs in favor of a short video pitch.
"This grant was way more personal," Bost said. They really wanted to hear about what you were going through, and they really wanted you to share your experiences … It felt more sincere."
The 30 Day Fund recently launched a new initiative: funding child care providers.
In September, Pennsylvania cut a subsidy it had been providing since the start of the pandemic to places offering child care for low-income families. The move put many of Pennsylvania's roughly 7,000 child care providers on perilous financial footing, industry advocates say. About 400 have shut down over the past nine months.
The 30 Day Fund is now working with advocates to identify more than 200 child care providers in the Philadelphia area, according to fund chair Brown. Each will be awarded a $3,000 forgivable loan within the next few weeks.
"Think about society reopening and you can't go back to work because there are no pre-K's open," Brown said. "We can't let them go out of business, because things won't return to normal."
The fund also remains open for other small businesses facing an uncertain winter.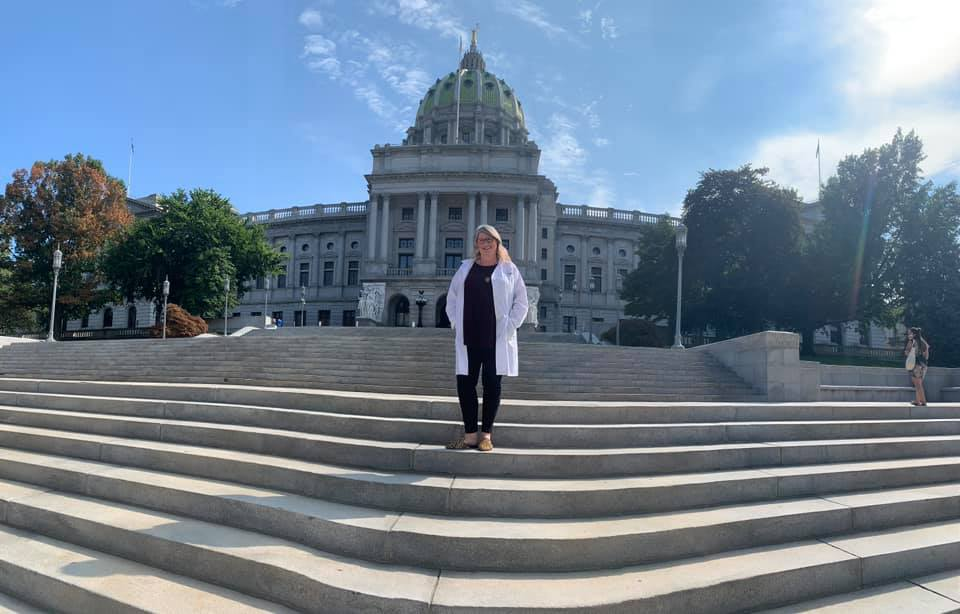 Jennifer Moorehead runs Science Explorers, a Berks County Company that provides STEM programming for elementary-age children in hundreds of schools across Pennsylvania, New Jersey and Delaware.
When the pandemic forced learning to go remote, Moorehead applied for and received federal coronavirus loans. She figured it would be enough to keep her company afloat until September, when she expected schools to resume in-person instruction.
"I told the warehouse to purchase for [half of our 2019 enrollment]," Moorehead said.
But many large districts kept online learning going throughout the fall. By October, Moorehead said, her federal loans were tapped and her company was in crisis. "There was probably like a 24-hour time frame when my bookkeeper was like 'I don't know how you are going to make payroll next week.'"
Moorehead was able to scrape by, and a few weeks later her company got its financial assistance in months — a forgivable loan from the 30 Day Fund.
The $3,000 sum didn't guarantee her survival, Moorehead acknowledged. But it did allow her to survive to fight another day.
"When you are through the [government relief] money, it does a lot," she said. "It helps. It pays someone's salary."
Read the full story here.